Hey everyone! I hope you all doing great.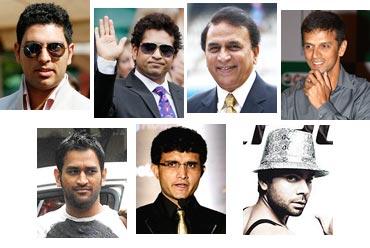 As you all know that Indians are like crazy enough for cricket and cricketers. I'd say even girls are getting interested in it day by day, especially for the super hot cricketers the team includes. Personally, I love watching cricket now a day's only because of the cricketers and I haven't a single match since the World Cup 2015 has started.
SACHIN TENDULKAR:
When it comes to cricket, how can we forget about our all time favourite, the Master Blaster of the world. He might be shorter in height but with no doubt he has achieved every mild stone in his life, including the fashion corner as well. We have seen him in numerous number of advertisements like in pepsi, boost, jaypee cement, Toshiba, adidas, etc. he has played his share of cricket in a marvellous way but on the other side, he has played some amazing roles in all advertisements too.
M. S. DHONI:
The new captain of Indian cricket team also touched the heights when it comes to advertisements and fashion. This captain shared the screen in many advertisements with the Baadshah of Bollywood, Shah Rukh Khan. He has also walked the ramp like a model.
VIRAT KOHLI:
He is the hero of every girl's heart (including me). When I met him at an event, he was cool but I have heard that he is very short tempered. But with all the fashionable things he has done so far, he has just nailed it. He has walked the ramp, acted amazingly in his advertisements, romanced with beautiful Bollywood divas, and what not. For every girl, he is perfect in all manners. Punjabis can't go wrong when they have to flaunt their sexiness and hotness to the world. He is an awesome cricketer and 'shaan' of his advertisements and his fashionable side.
YUVRAJ SINGH: And last but not the least, another Punjabi boy who is not only known for his cool style mantra but also have a heart of gold. He has seen loads of ups and downs in his life but he never gave up. He holds his cool style, confidence and hotness at spark every time. You have seen him too in many advertisements saying, "apna apna style hai", and also walking the ramp. And at the same time, he is a marvelous cricketer too as you all know, right? 6 sixes all together in one over itself.
These Indian cricketers have always entertained us, either it is the pitch or the ramp, they have never disappointed us.
I hope you enjoyed reading this post as much as I had while writing it.
As always thank you so much for taking out time and reading my blog.
ALWAYS KEEP SMILING, IT MAKES YOU LOOK BEAUTIFUL !
Disclaimer:
This post is a part of Blogger Dream Team #BloggerTeamDream