A non-vegetarian junkie just can't sleep without eating a fish. And as you must know that Kolkata is the city which is famous for fishes and its related dishes. Sea food includes the fishes and its dishes and so I'm here to tell you about some amazing restaurants in the city where you'll find delicious and authentic fish delicacies.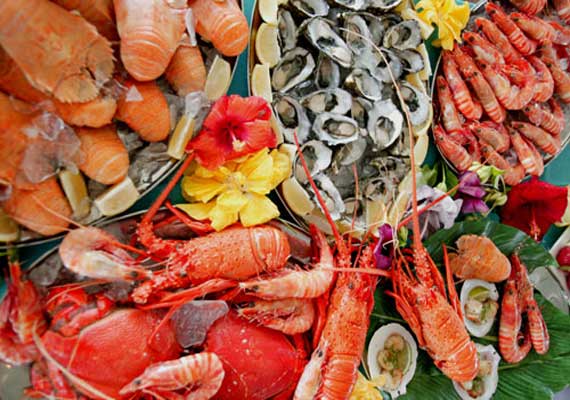 Seafood, mainly fish is not only popular in the food world of Kolkata. Besides food department, fishes are used for fish spa, pedicure, oil, etc. It might be interesting for you to know that Asin, a bollywood actress (worked in Ghajini, Ready, etc movies) eat a fish daily in her breakfast. According to her eating fish brings a natural glow to the face, makes your nails and hairs thick, shiny and healthy with many other positive benefits as well.
And now I shall be discussing about some amazing restaurants in Kolkata where you could find delicious
seafood/ fish dishes
.
PANCH FORON RESTAURANT: This restaurant includes delicious fish in Kolkata and also at affordable prices too. As per the reviews which came up the taste of the dishes in this restaurant is superbly delicious.
Address: Action Area 1, Pinacle Tower, Atghara, Chinar Park, Rajarhat, New Town, Kolkata, Kolkata, 700156
Phone number: 9932769239
SHIRAZ GOLDEN RESTAURANT: This restaurant is the oldest and most famous one. Though the restaurant is popularly famous for its 'biryani' but seafood is equally famous too. And as far as taste is concerned, it is immensely delicious.
Address: 135, Park Street Circus Avenue, Park Street, Kolkata, 700017
Phone number: 22866806
BADSHAH RESTAURANT:

Here is one more restaurant which serves you delicious food. As the name suggest, BADSHAH! But according to people the

ambiance

is not that lavish as the name says own its own but when it comes to food and taste, it has scored full marks. People says that it serves delicious dishes on their tables which is really worth trying out this restaurant at least once because after it, you'll automatically visit the place from next time.
Address: 5 Lindsay Street, New Market, Kolkata, 700087
Phone numbers: 22497261, 22494185, 22497455
FINGER TIPS RESTAURANT: A place where you are served with delicious food and when it comes to seafood, including fish, the taste is nice.
Address: 16 Block Ep & Gp Salt lake City, Salt Lake Electronics Complex, Kolkata, 700091
Phone number: 23577647
NEW ALIAH RESTAURANT: Here you'll be entertained with so many dishes of different categories. The seafood/ fish dishes are not much in the menu section but still the taste won't disappoint you.
Address: 31 Bentinck Street, Esplanade, Kolkata, 700069
Phone numbers: 22437802, 22488858
RED CHOPSTIX RESTAURANT: According to the reviews, people really liked the taste of the dishes and the quality too. Here you get many choices to select from the menu as it has a huge menu. Do give it a try, the reviews are impressive!
Address: 174,179 Block-C, Raja S C Mallick Road, Jadavpur, Kolkata, 700032
Phone numbers: 9830897092, 91-33-64513344, 91-33-24732773
So these were some of the seafood restaurants in Kolkata where you can try out the seafood/ fish dishes and enjoy their deliciousness too. Get along with your family and friends Kolkata people and if you are a tourist and love seafood, do check out these restaurants.
I hope you enjoyed reading this foodie blog post. Let me know in the comments below if you love seafood/ fish and tried any of the above restaurants.
As always thank you so much for taking out time and reading my blog.
ALWAYS KEEP SMILING, IT MAKES YOU LOOK BEAUTIFUL!!
Disclaimer:
All the pictures are taken from www.google.com